COMPANY PROFILE
WE HELP-U-MOVE, INC. is a Veteran owned, full Service and independently owned moving company. It was founded by Nicholas Walker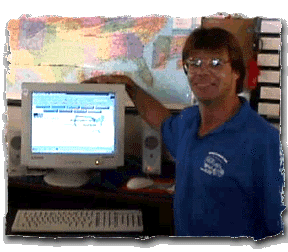 of Frederick, Maryland in June of 1994. In October 1998, WE HELP-U-MOVE incorporated.
Mr. Walker has been in the moving industry since 1987. He has worked for both small independent moving companies as well as the major van lines. Experiencing both entities, Mr. Walker opened WE HELP-U-MOVE in 1994 looking for the Quality and commitment he experienced growing up in the middle of Kansas - where QUALITY came before QUANTITY. Mr. Walker served with the United States Air Force, Electronic Security Command.
The most exciting moving adventure Nicholas was involved in was dismantling and transporting pieces of the Berlin Wall from Germany to Dulles Airport in 1989. This was for a Broadcasting Company in Chevy Chase, MD. The 1,000 pound pieces he brought back were cutup and distributed to radio stations nation wide for the promotion "If you're the 10th caller, you get a piece of the Berlin Wall!"
WE HELP-U-MOVE stays involved with the Alzheimer's Association, Mission of Mercy, Habitat for Humanity, the Patty Pollatas Fund and many other local non-profit organizations.
It is the goal of Nicholas Walker to revolutionize the Moving Industry - to put QUALITY back into its reputation and to decrease the Cost of Moving for the Customer.
To make this happen, Mr. Walker is utilizing new technologies and working with contacts within the industry to create a Nationwide Network called the INTERNET MOVING TEAM. When linked together, WE HELP-U-MOVE, INC. will be part of that Network.
The Network is comprised of small local independent moving companies, and is in the process of expanding into 230 national markets within the continental United States.
WE UNDERSTAND THAT WE MOVE PEOPLES LIVES, NOT JUST THEIR PROPERTY

[Company Profile]
[Services]
[Rates]
[Contact]
[Packing Tips]
[Box Outlet]
[Useful Links]
[Internet Moving Team]
[Testimonials]
[Weather]